Welcome To Ray's Dent Shop
Dent Removal Specialist
Call today!!! (717) 665-0903
100% satisfaction guaranteed
Paint-less Dent Removal is the process of removing dents and dings from a vehicle using special tools and Ray's techniques. No body filler, sanding or painting involved.
Paintless dent removal

(P.D.R.)
, also known as "paintless dent repair", is a collection of techniques for removing dents and dings from the body of a motor vehicle. A wide range of damage can be repaired using P.D.R. the most common practical use for P.D.R. is the repair of hail damage, door dents, body creases, and bumper indentations. P.D.R. also carries a number of additional advantages including no need for repainting or body filler, in most cases short repair time (often same day repair), no risk of overspray, no risk of improper color matching, and less expensive than traditional body repair. Ray's techniques can also be applied to help prepare the damaged panel for paint. Such applications are referred to as "push to paint", or "push for paint".
Ray's Dent Shop has been servicing Pennsylvania, MD, VA, NY, NJ, and DE for over 20 years.
Environmentally friendly repairs: Paint-less dent removal is 100% environmentally friendly. There is nothing used except special hand tools and knowledge.
Advantages of Dent Removal:
Maintain your vehicles value.
In most cases less expensive than traditional body repair
Same day services in most cases
No risk of paint overspray on other vehicle areas
No risk of incorrect color matching
The vehicle retains original paint
No repainting or body filler needed
A vehicle with original paint retains a higher value than a repainted vehicle. Even if it is just a door or a fender, it is always preferable to maintain the original paint on a vehicle for as long as possible.
Call Today! (717) 665-0903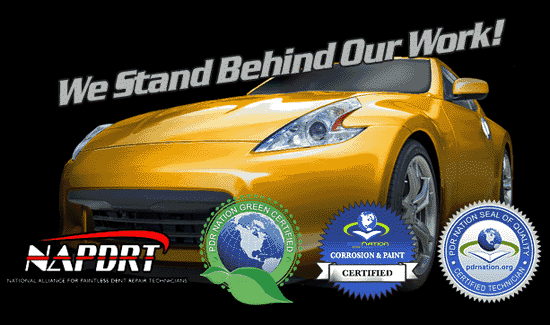 Our Shop:
Ray's Dent Shop
20 Hillside Ave, Manheim, PA 17545
(717) 665-0903
Email: raysdentshop717@gmail.com
Shop Hours:
Mon-Thu. 10am - 5pm
Fridays: Appointment Only
Sat. - CLOSED
Sun.- CLOSED